Pair of Billet Rear Spring Mount Arms for Nissan Patrol Y62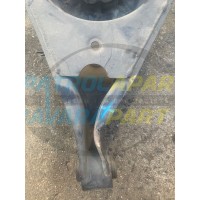 Part Number: Y62BILLETARMS
Billet Rear Arms


These billet arms replace the factory lower arms that are prone to cracking on the Y62 due to the heavy loads these vehicles are from factory. Combined with a heap of aftermarket accessories, it makes the problem worse.
There is a massive about of CNC work in creating these solid arms and look the part too.
They are a great requirement for lifted vehicles as they are about 5mm longer in length increasing the amount of adjustment in Toe settings on the rear of the vehicle.
Great thing is also, that they are locally made in Melbourne Australia, supporting Aussie jobs!
These arms combined with one of our 4 types of suspension packages, greatly improve vehicle handling, offroad ability and strength which also can be to gain a Higher GVM for your vehicle using an engineer.
Please contact our service department to tailor make a package for your Y62, comprising of suspension and quality aftermarket components, like bullbars, UHF radios, rear bars etc.
User Reviews
---
Please
Login
to add your review.