MSA Fridge Protection Barrier suit DS40 NEW MODEL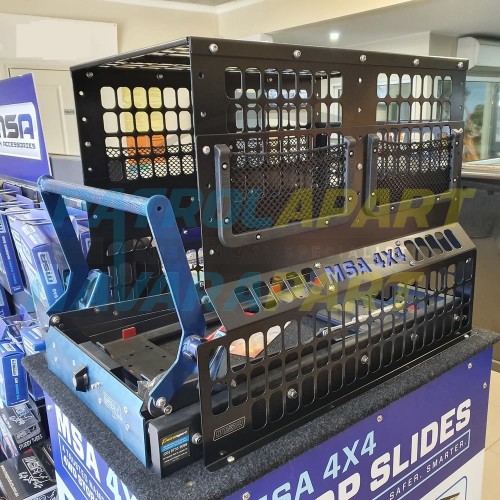 Part Number: FBDS40N
Brand: MSA
MSA 4x4 Adjustable Height Fridge Barrier

***NEW MODEL***
Model Number: FBDS40N to suit DS40 Fridge Drop Slide

The new MSA 4X4 Adjustable Fridge Barrier Range is tough, durable and eye-catching, and delivers the perfect solution to protect your fridge from any loose gear packed around it!

The Fridge Barrier has been designed to suit our range of MSA 4x4 Drop Slides and Fridge Slides but will also suit most generic fridge slides. You can store your accessories safely and securely around the Fridge Barrier and protect your fridge from any loose gear.No more unpacking the car to access your fridge.

It's supplied flat packed but is easy to assemble, install and remove, just in case you want to move it to another vehicle.

FEATURES:
• Gloss black powder coated steel frame which provides safety, strength and durability
• Practical side pockets included to store stubbie coolers, cups, bottle openers and any other small items that require easy access to!
• Designed to fit perfectly around the MSA 4X4 Drop Slide and Fridge Slide range with the smallest possible footprint, saving valuable storage space
• Adjustable Barrier height ensures the perfect fit around your fridge!
• Uniquely recognisable MSA 4X4 blue anodised logo on both sides match in perfectly with the MSA 4X4 Drop Slide and Fridge Slide!
• Easy to Install
• Peace of mind with MSA 4X4's Lifetime Guarantee

Please note:
Due to demand, we dont always carry these in stock. please call us for stock availabilities.

Picture is for illustration purposes only, actual product may vary depending on size of model ordered.
Does not include Fridge drop slide or anything else in the phot. It's for the BARRIER ONLY
User Reviews
---
Please
Login
to add your review.