Genuine Headlight Combination Switch Stalk For GQ S2 2 Plugs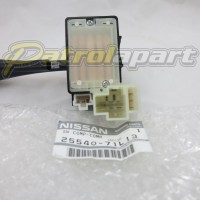 $184.27 $175.51
Out of Stock
Part Number: 2554071L13
Brand: NISSAN
Genuine Nissan Headlight Switch
Suit GQ Patrol Series 2 & Maverick

This Headlight Stalk is to replace the Round Stalk.
There are 2 Different Plugs for the same looking stalk, so please check Carefully.
Attached is a photo of the plugs on the back.
Feel free to contact us with your vin Number for Confirmation of which one you require if you are not sure.
It is common for an old headlight stalk to burn out, this can cause intermitent problems with individual lights not working.
User Reviews
---
Please
Login
to add your review.